Explosions, cockroaches and slime make Big Bang a rocketing success

Explosions, cockroaches and slime make Big Bang a rocketing success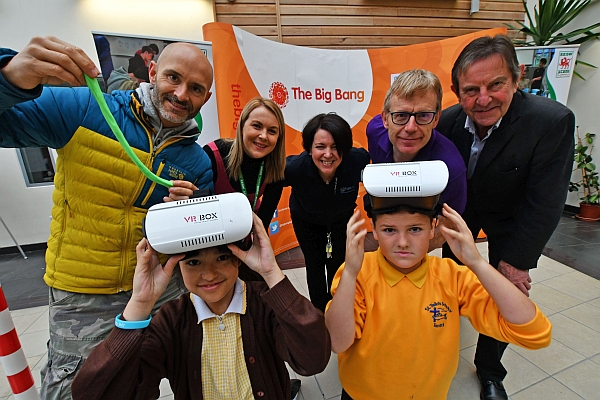 Pembrokeshire schoolchildren have attended a popular science fair now in its third year.
Big Bang Pembrokeshire - held at the Bridge Innovation Centre (BIC) in Pembroke Dock on Wednesday - aimed to excite and enthuse young people about science​​ and encourage them into following STEM (science, technology, engineering and maths) careers.
This year's Big Bang was fully booked with over 300 students attending a variety of exhibitions and shows.
Workshops included coding, building batteries, racing cars and examining the night sky in the digital planetarium.
Dr Sarah Beynon from the Bug Farm at St Davids, introduced the children to hissing cockroaches and stick insects whilst others examined squid and bioluminescence in the 'Creatures of the Deep' workshop with the Darwin Experience.
Meanwhile the audience at the 'Science made Simple' show had a soggy experience investigating the properties of water, while pupils at the air rocket workshop tested out their projectiles outside and discussed why some constructions were more successful than others.
Stands by Fab Lab Pembrokeshire, Oriel Science and the Institute of Physics introduced the children to robots and the free slime samples proved a most popular giveaway!
Pembrokeshire County Council Cabinet Member for Education and Lifelong Learning, Councillor David Lloyd , who also attended, said: "This is a fantastic event and I am delighted to see so many of our local schools involved.
"I am interested to see how we can extend the opportunity to more of our schools and help to foster an interest in STEM subjects moving forward."
The event is organised as a partnership between the County Council; Fab Lab Pembrokeshire; Engineering Education Scheme Wales (EESW), the Darwin Experience and Aberystwyth University.
Michelle Francis from the BIC said: '"We are delighted that The Big Bang Fair continues to be a source of STEM inspiration for young people.
"There is a real commitment on the part of our workshop providers, partners and visiting schools to engage with pupils and provide stimulating learning experiences as well as opportunities for careers conversations with STEM professionals."
Captions
Big Bang partners (left to right): Marten Lewis (Darwin Experience); event organisers Aimee Thomas (EESW) and Michelle Francis (BIC); Martin Nelmes (Aberystwyth University) and County Councillor David Lloyd help pupils from St Teilo's School Tenby experience virtual reality.
Introducing hissing cockroaches from the Bug Farm, St SDavids, to pupils from Redhill Preparatory School, Haverfordwest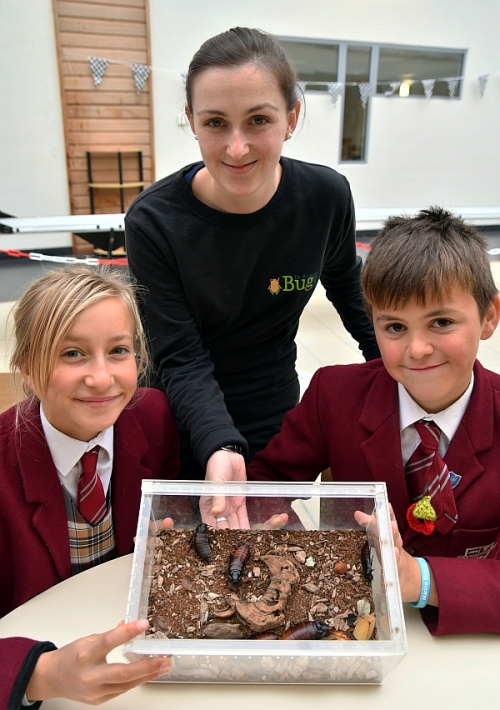 ID: 163 Revised: 6/11/2017