Crime busters and mad scientists power 'Big Bang' success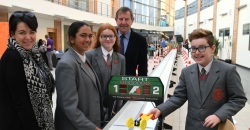 Crime busters and mad scientists power 'Big Bang' success
The Bridge Innovation Centre (BIC) in Pembroke Dock was once again delighted to play host to Pembrokeshire's 'Big Bang' event.
'Big Bang' aims to introduce young people to the exciting career opportunities open to them by studying STEM (science, technology, engineering and maths) subjects.
This year's 'Big Bang' was again fully booked, with 250 students attending a variety of exhibitions and shows.
Workshops included presentations on air rockets, time, particle physics and a night sky digital planetarium.
Representatives of South Wales Police were on hand with PCSO Adam Thomas talking through the science behind fingerprinting.
'Science Made Simple' showed the students how engineers can 3D print a new hip joint, preserve our bodies after death as well as exploring properties of balloons and bubbles.
Children also built solar powered vehicles and Jaguar 2D made a popular return to race its CO2 powered cars down a 20 metre track.
A new workshop this year from 'Mad Science' saw students turn into science detectives, following clues to a dramatic dry ice finale.
Stands by Swansea and Aberystwyth universities introduced the children to robots, virtual reality and hydraulic arms.
Pembrokeshire County Council's Cabinet Member for Education and Lifelong Learning, Councillor David Lloyd, who also attended, said: "Once again 'Big Bang' has been a wonderful opportunity for the children to explore the ways science and technology is used in the real world.
"It is an event which gives me the greatest pleasure in attending.
"It demonstrates how, by pursuing careers in these subjects, they themselves can be involved in advancing technology and scientific discovery."
Michelle Francis at the BIC said: "We are delighted with this year's fantastic turn out. Accommodating the 2018 event was slightly more challenging than previous years as the Bridge Innovation Centre's offices and workshops are close to full with tenants.
"I want to thank all our partners and workshop providers for their hard work which resulted in a great learning experience for pupils.' 
'Big Bang Fairs' are part of a UK-wide programme aiming to bring science and engineering to life for young people.
Big Bang Pembrokeshire is organised as a partnership between Pembrokeshire County Council and Engineering Education Scheme Wales (EESW) supported by Swansea and Aberystwyth Universities.
Captions
Exploring the properties of bubbles in 'Science Made Simple'.
PCSO Adam Thomas showed the science behind fingerprinting.
Councillor Lloyd at the start line of the 20-metre racing track.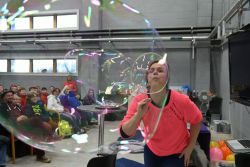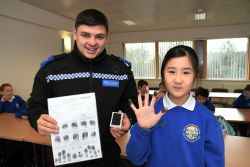 ID: 195 Revised: 27/11/2018