An ocean of opportunities for West Wales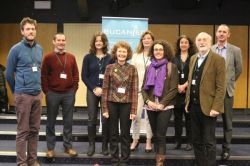 The many uses and commercial benefits of seaweed to the West Wales economy have been debated in the first ever 'seaweed conference' staged recently.
The event at Pembrokeshire College was attended by a diverse range of interested parties from business people, scientists and soap producers to food foragers and other farmers of the sea keen to learn more about the potential of seaweed.
Funded by European project BUCANIER and organised by the Pembrokeshire Coastal Forum (PCF), the conference included speakers from Wales, Ireland and Scotland to examine examples of best practice from around the world. 
PCF chairman, Nick Ainger, hosted the conference and introduced the first speaker, Dr Molly Price-Jones of Wales-based BIC Innovation.
She outlined the many possible uses of seaweed as a biofuel, skincare, fertiliser, life sciences, food, animal feed and medicine.
Other speakers included Dr Adrian Macleod from the Scottish Association of Marine Sciences in Oban, which runs the EU-funded MacroFuels project and aims to produce biofuel from seaweeds and macro algae.
Dr Sara Barrento of Swansea University, who has run a seaweed pilot project in the haven waterway, spoke on the subject of sustainable aquaculture while Jessica Adams from Aberystwyth University introduced the audience to a project she is undertaking with Pembrokeshire company, GreenSeas Resources.
She is looking at utilising the floating green seaweeds proliferating in the Milford Haven estuary.
Lucy Watson from Bord Iascaigh Mhara - partners in the BUCANIER project - bought her expertise in innovation and development in aquaculture from Ireland where seaweed is a multi-million pound export business.
Another guest, Joseph Kidd of GreenSeas Resources based at the Bridge Innovation Centre in Pembroke Dock, spoke about the commercial farming and sustainable management of seaweed in the county and the company's plans to develop a portfolio of products.
They are currently carrying out tests on the use of seaweed as a fertiliser.
During the afternoon session, Jose Constantino from Welsh Government, spoke about supporting the sustainable development of the industry.
Jose, who is part of Marine and Fisheries Division, expressed the wish of a meaningful conversation between industry, research institutions and regulators with a view to developing the aquaculture sector further.
The conference concluded with a list of next steps and a desire for Wales' first annual seaweed conference to reconvene in 2020.
Afterwards Peter Lord, BUCANIER Project Officer said: "The key aim of the conference was to connect people and explore the potential of the seaweed industry for West Wales. BUCANIER is delighted to facilitate these conversations and assist businesses with an interest in developing their ideas."
He explained that BUCANIER intends to increase the number of cross-border collaborative research, development and innovation clusters and networks between research institutions and SMEs.
BUCANIER is funded through the European Regional Development Fund via the Ireland Wales Co-operation Programme. For more information about BUCANIER please visit www.BUCANIER.eu or telephone Peter Lord on 01646689303.
Caption
Pictured left to right are speakers: Dr Adrian Macleod, Joseph Kidd, Lucy Watson, Molly Price-Jones, Ann Ruddy (Redrose Developments, Ireland); Dr Sara Barrento, Sarah Hotchkiss (CyberColloids, Ireland); Nick Ainger and Peter Lord.

ID: 204 Revised: 14/3/2019